The air is getting cooler and the leaves are starting to change color; it must be fall in the Hill Country! At Ken Stoepel Ford, we're lucky to be smack dab in the middle of one of the few areas in Texas to get some truly spectacular fall colors, so we decided to put together a list of our favorite places to go for some awesome autumn sights!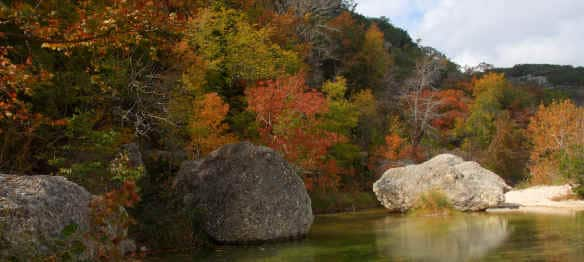 Lost Maples State Natural Area
The crowning jewel for fall foliage in Texas,
Lost Maples State Natural Area
is an ecological gem located near Vanderpool. The park gets its name from its large groves of Uvalde bigtooth maples which turn brilliant shades of yellow, red, and orange in late October/early November. People from all over the state stop by this beautiful park for a chance to see the trees undergo their incredible fall transformation, and we're lucky enough to be just an hour away from it. It tends to reach capacity during peak season, so be sure to get there early or book your camping site as soon as you can.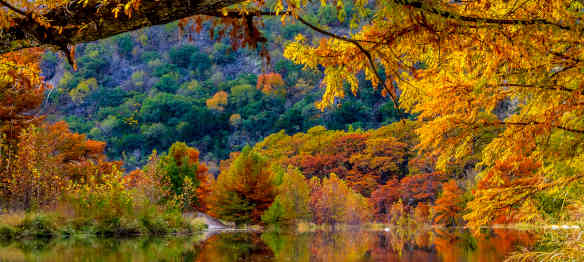 Garner State Park
If you like camping and you live in Texas, you've probably been to
Garner State Park
. It's the most popular state park in Texas or overnight camping, and there's really nothing like relaxing in the Frio River on a hot summer day. We love Garner State Park in the summer, but did you know that it's also one of the best places in Texas to see fall colors? In autumn the mesquite, persimmon, oak, and cypress trees all change color and completely change the look of the park. We recommend you start at the river for an up-close and personal look, then make the hike up to the top of Old Baldy for a truly spectacular view. You really can't beat it.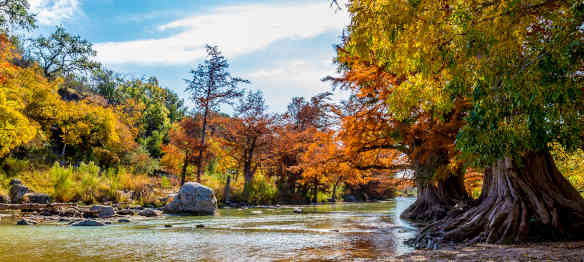 Guadalupe River State Park
Located downriver from Kerrville on the banks of the glorious Guadalupe,
Guadalupe River State Park
is home to many cottonwoods, sumacs, sycamores, and cypresses that light up the landscape with their outstanding fall foliage. It's a beautiful park year-round, but it is particularly spectacular during autumn. We recommend taking an easy hike down the Barred Owl Trail to reach a scenic view overlooking the park. This is a real no-brainer for any fall fanatic.
Are you looking forward to fall leaves?
Let us know on Facebook
, and be sure to stop by Ken Stoepel Ford to find your
perfect Ford
for fall! We're your
trusted Ford dealership
in the Hill Country, proudly serving Kerrville, Boerne, Fredericksburg, San Antonio, Comfort, Ingram, Bandera, Harper, and Luckenbach. Hill Country proud since 1966!